LDSOLAR MPPT 30A Solar Regulator True MPPT Solar Charge Controller 12v 24v Auto
LDSOLAR MPPT 30A Solar Regulator Charge Controller 12v 24v Auto USB Full Log LCD
Many Happy Customers Australia Wide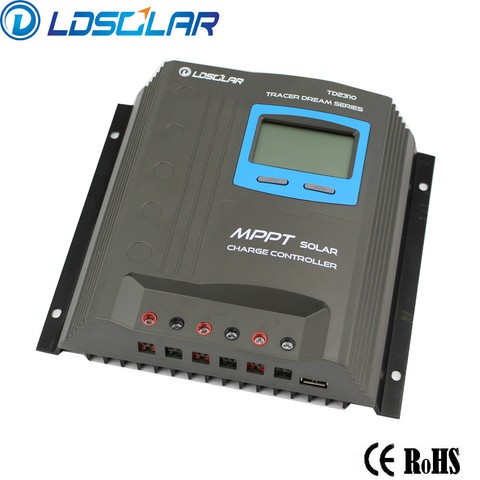 Ctrade Australia is a registered Australian Business
All our Products are on the shelf in Australia and ready for immediate dispatch
                   Tracer Dream Series solar charge controller 30amp MPPT
Get More From Your Solar Panels With A True Tracer MPPT
You can Adjust all The Settings Via The unit If Required
Full Log of Details Amps Volts Etc Via The LCD Screen

**** Top Quality Heavy Duty Units Very Stable Many Happy Customers ****

*** Easy To Install ***
2 Year Australian  Warranty = Peace of Mind
12v Solar / Battery set up 400w of solar panels
 24v Solar /  Battery set up 800w of solar panels

Max Volts Solar Panels input into the MPPT unit is 100v
Tracer Dream series product with adopted positive design with LCD displaying. Based on MPPT technology, which tracks the maximum power point of PV array exactly and quickly in any condition. Obtain Max power from your solar panels anytime, increase the charging efficiency of solar panels. Used for communication systems, off-grid solar systems, solar street light systems and field monitoring. Excellent digital protect functions.
Caravans / Rv / Marine / Industrial /Homes / Sheds and More
Model no.

TD2310      

2 year Australian Warranty




Rated Charging Current

30A

Rated Discharging Current

30A

System voltage

12V/24V

PV Max Solar Panel Input Voltage

100V

Charging Mode

TRUE MPPT TRACER Charging

LVD (SEL12V;*2 24V;*3 36V;*4 48V)

11.0V 

LVR (SEL 12V;*2 24V;*3 36V;*4 48V)

12.6V 

Float Voltage

13.8V 

Boost Voltage                                           

14.4V; X 2 24V Battery Voltage less than 12V

start boost charging 2 hours

Self-consumption

less than 25mA

Working Ambient Temperature

-20 ℃---+50 ℃

USB Charging mode

5V1A CVCC*

Waterproof Grade

IP32

Size

200 x 185 x 60mm

Net weight

1300g

Reverse Connect Protection

Yes

Battery Over-Voltage protection

Yes

Over temperature Protection

Yes

Temperature Compensation

Yes
 Whats in the Box 
1 x 30amp MPPT / Temp Sensor
1 x English Instruction Manual
Product Features:
Advanced MPPT technology, fast and stable tracks the Maximum Power Point, tracking accuracy 99.5%;

Adopts Synchronous Rectifier Technology, significantly improve the transfer efficiency of circuit, maximum 98%, accurate identification and tracking multi peak power point function.

PV array limited power input function, to ensure that the controller does not overload operation under any conditions.

Wide range of Maximum Power Point of PV array, Max PV input voltage 100V, 12V/24V DC system voltage automatic recognition Humanized LCD displaying, dynamic display operation data and working state.

Built-in operation log, account system working state Multi load control mode: Normal Mode, Sensor Mode, Timer and Sensor Mode.

3 stage charging mode, sealed, Gel, Flooded 3 types of  battery charging procedure selections

Temperature compensation Function

Accumulation function of charging and discharging, actual time display power generation functions

Digital protection functions:Reverse connection, Overcharging, Over-Discharging, over voltage, Overload, and Short circuit protections.


Large diameter connectors, red and black connectors distinguish plus and minus.
Safety Instructions
Make sure your battery has enough voltage for the controller to recognize the battery type before first installation.
The battery cable should be as short as possible to minimize loss.
The regulator is only suitable for lead acid batteries: OPEN,AGM, GEL
It is not suited for nickel metal hydride, lithium ions or other batteries.
The charge regulator is only suitable for regulating solar panels. 
Never connect another charging source to the charge regulator. 
        System Connection:
Connect the battery to the charge regulator - plus and minus.
Connect the solar panel to the regulator - plus and minus.
Correct wiring method for heavy amp accessories, is to connect them direct to your battery
---
We Also Recommend
---